Some residents have reported finding rabies vaccine baits distributed by the Ministry of Natural Resources and Forestry. The Ministry, not the Town, distributes rabies vaccine baits for wildlife throughout southern Ontario by aircraft in rural areas and by hand in urban centres. Baits are provided to immunize most raccoons, skunks and foxes.
Information from the province can be found at: https://www.ontario.ca/page/rabies-wildlife#section-4 and below.
Wildlife vaccine baits
Ontario controls rabies in wildlife by dropping baits that contain vaccine in urban, forested and rural agricultural areas. Baits are dropped for foxes, raccoons and skunks to eat in areas where rabies has been detected in wildlife in the current or previous year.
The bait is a small packet filled with the rabies vaccine that is absorbed through the lining of the mouth. Animals are immunized against rabies about 2 weeks after they either chew or swallow the rabies vaccine bait.
Wildlife vaccine baits are not meant for humans, livestock or pets and won't protect you or your animals from rabies.
Rabies vaccine bait identification
There is currently one type of vaccine bait, the Ultra-lite containing ONRAB®, that is used in Ontario for both fox strain and raccoon strain rabies control. Exposure to the bait is not harmful to people or pets; however, in the unlikely event that people or pets come in contact with the vaccine contained in the bait, contacting a doctor or veterinarian as a precaution is recommended.
Vaccine bait appearance and contents
The bait formula coats the blister pack containing the vaccine. This formula consists of vegetable based fats, was, icing sugar, vegetable oil, artificial marshmallow flavour and dark-green food grade fat-soluble dye.
Blister-pack (vaccine carrier)
Ultra-lite
This is a polyvinyl chloride (PVC) blister pack (40 mm x 22 mm x 10 mm) which weighs approximately 4.3 grams. The blister pack is a teal green polyester flocked container with a heat-sealed laminated polyester lidding. The body of the blister pack is embedded in the bait matrix but the green lidding is exposed and has a black warning label printed on it.
Vaccine in Baits
ONRAB

® oral rabies vaccine

Description: a recombinant live virus liquid vaccine
Volume/bait: 1.8 ±0.1 ml in the blister pack
Other inclusions: vaccine stabilizers
Colour: pale orange to pale pink
Target species: skunk, fox, and raccoon

Rabies baits:
are an army-green colour
have a "do not eat" label
have a toll-free number ( 1-888-574-6656)
look like this: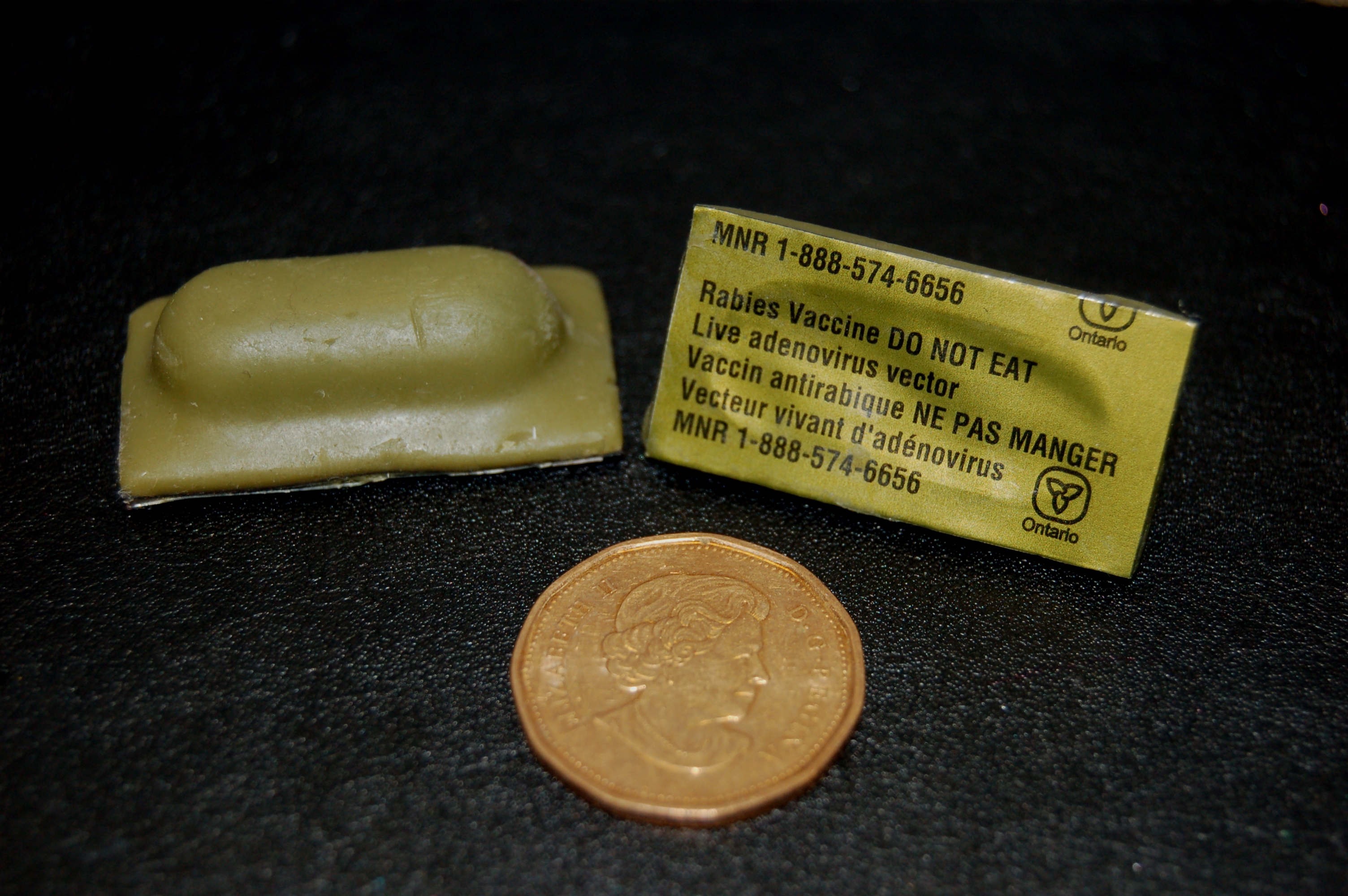 If your livestock or pet eats 1 bait packet they may get an upset stomach but there's no need to worry. If they eat more than one, call your veterinarian.
Contact:
Wildlife Research and Monitoring Section
rabies@ontario.ca
1-888-574-6656
Where baits are dropped
Vaccine baits are distributed:
mainly in southern Ontario and along our border with New York State, where the raccoon rabies strain is common
by hand or helicopter in green spaces in urban areas (e.g. parks and ravines)
from yellow airplanes and helicopters in rural agricultural and forested areas
In Ontario, rabies vaccine baits can only be distributed by the Ministry of Natural Resources and Forestry (MNRF).
2020 Summer/fall baiting areas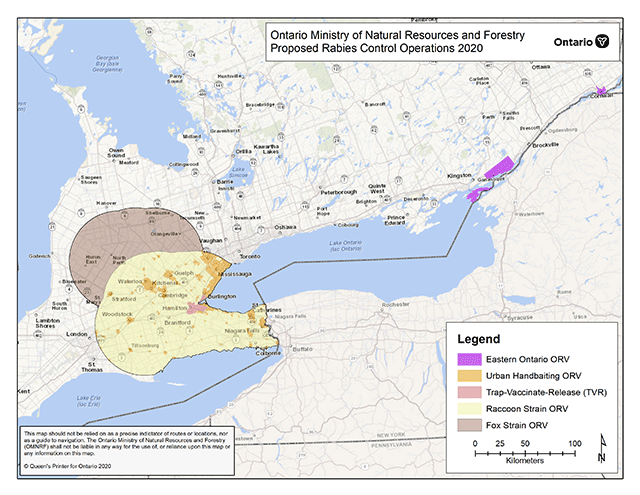 2020 Summer/fall baiting schedule
| By | Where | When |
| --- | --- | --- |
| Hand baiting | Southern Ontario: Urban areas within the racoon rabies control zone | July to late October |
| Helicopter baiting | Southern Ontario: Green spaces within urban areas in the racoon rabies control zone | Mid-August |
| Twin Otter aircraft | Eastern Ontario: St. Lawrence area | Mid-August |
| Twin Otter aircraft | Southern Ontario: Golden Horseshoe area, Huron, Waterloo, Perth, Wellington, Dufferin, Bruce, Middlesex, Grey counties | Mid-August to mid-September |
| Helicopter baiting | Southern Ontario: Niagara Peninsula | Mid-September |
For more information on this program, visit ontario.ca/rabies or call the MNRF Rabies Information Lineat 1-888-574-6656.
If you find a bait packet
If you find a bait packet in an area where it shouldn't be (e.g. your yard):
Don't open it
Place a plastic bag over your hand to keep your scent off the bait
Move it to an area where wildlife may find it (e.g. a forested area).
Download Rabies vaccine bait information (PDF)